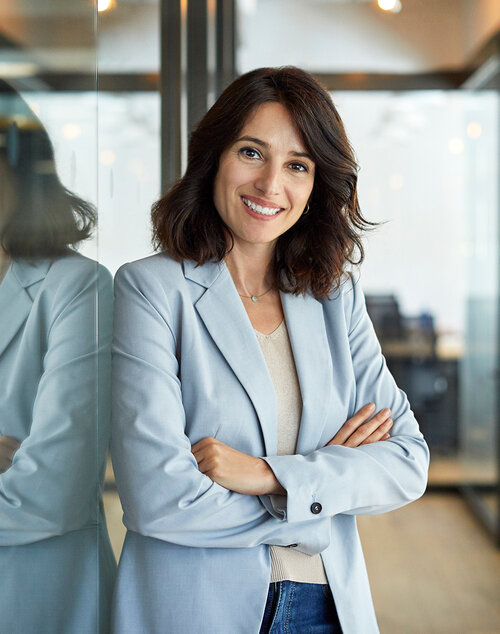 Investor Centre
Our Investor page contains information on Afterpay announcements, results, reports and other shareholder information.
Board of Directors
Elana Rubin
Chair, Independent Non-Executive Director
Elana was appointed Chair of Afterpay on 25 May 2020. Prior to this, Elana served as an Interim Chair from 1 July 2019 and has been an Independent Non-Executive Director of Afterpay since 2017. Elana has been a longstanding director of a number of public and private companies, with extensive experience in property, insurance and financial services. Elana is currently a Non-Executive Director of ASX listed Telstra Corporation Limited and Slater and Gordon Limited. She is also a director of several unlisted companies and/or government bodies. Elana was previously a Non-Executive Director of Mirvac Limited. She was the former Chair of AustralianSuper and the Victorian WorkCover Authority. Elana has over 20 years' experience as a Non-Executive Director.
Anthony Eisen
Chief Executive Officer & Managing Director
Anthony was appointed as Chief Executive Officer & Managing Director on 1 July 2019. Prior to this, Anthony served as Executive Chairman of Afterpay for two years. Anthony has over 25 years' experience in investing, public company directorships and providing corporate advice across a variety of sectors. Prior to co-founding Afterpay, he was the Chief Investment Officer at Guinness Peat Group (GPG). He was actively involved in a number of financial services, software and technology companies in which GPG was a major shareholder. Before joining GPG, Anthony was involved in investment banking, specialising in mergers and acquisitions. He is currently also a director of Stone & Chalk Pty Ltd.
Nick Molnar
Global Chief Revenue Officer & Executive Director
Nick was appointed as Global Chief Revenue Officer of Afterpay on 1 July 2019, Nick was appointed an Executive Director of Afterpay on 5 July 2017. Nick has extensive experience in online retail. Prior to cofounding Afterpay, Nick launched the leading American online jeweller, Ice.com, into Australia under the local brand Iceonline.com.au. Nick successfully grew Ice in Australia to become the largest online-only jewellery and watch retailer. Prior to launching Ice, Nick was an Investment Analyst at venture capital fund M.H. Carnegie & Co., where he was primarily responsible for growth stage investment opportunities in the technology sector. Nick holds a Bachelor of Commerce from Sydney University.
Gary Briggs
Independent Non-Executive Director
Gary is currently the Chairman of Hawkfish, a digital agency focused on Democratic causes and initiatives. From 2013-2018, Gary was the Chief Marketing Officer of Facebook, responsible for the Company's brand, consumer, and product marketing. He was Facebook's first CMO. From 2010-13, Gary was at Google where he led marketing efforts for search, maps, commerce, Chrome, Google+, Google.org, and the Google brand overall. He also led marketing for Motorola Mobility, upon its acquisition by Google. Before Google, Gary was CEO at Plastic Jungle, a gift card startup, where he joined from their Board of Directors. Before that, Gary worked at eBay from 2002—08 in roles as Vice President of Consumer Marketing, General Manager of eBay Canada, Global Marketing Head of PayPal, and CMO of eBay North America. Earlier in his career, Gary worked for six years at Pepsi, where he launched Aquafina, Pepsi's joint venture with Starbucks and was Director of Brand Pepsi. He also spent two years at IBM running worldwide brand strategy and was engagement manager at McKinsey. He earned a Bachelor of Arts degree in 1984 from Brown University and a Masters in Management in 1989 from the Kellogg School of Management, Northwestern University. He also serves on the Boards of Etsy, Inc (NASDAQ: Etsy) and Petco, and is an advisor to several early stage companies.
Pat O'Sullivan
Independent Non-Executive Director
Pat was appointed as an Independent Non-Executive Director on 1 March 2020. He is currently Chairman of carsales.com Limited (ASX:CAR), and Deputy Chair of Calvary Health. He is also Chairman of dreams2live4 an Australian charity that grants dreams to people with metastatic cancer. Pat worked for 30 years in various senior financial and operational roles in Ireland, the US, Australia and New Zealand across a number of industries including traditional and online media, telecommunications, fast moving consumer goods and professional accounting.
He was the Chief Financial Officer of Optus from 2001 to 2006 and was the Chief Operating Officer and Finance Director of Nine Entertainment Co Pty Limited (formerly PBL Media Pty Ltd) from 2006 until 2012. Pat was previously an Independent Non-Executive Director of the following ASX listed companies; APN Outdoor (ASX: APO), iSentia (ASX:ISD), Marley Spoon (ASX:MMM) iSelect (ASX:ISU) and iiNet (ASX;IIN) and was previously Chairman of HealthEngine. Pat is a member of The Institute of Chartered Accountants in Ireland and Australia. He is a graduate of the Harvard Business School's Advanced Management Program.
Sharon Rothstein
Independent Non-Executive Director
Sharon was appointed as an Independent Non-Executive Director on 1 June 2020. She is currently a Director of Yelp Inc (NYSE: YELP), and Non-Executive Director of InterContinental Hotels Group (LON: IHG).Sharon also serves as an Operating Partner at growth equity firm, Stripes Group. Prior to that she was the Executive Vice President, Global Chief Marketing Officer of Starbucks Corporation for five years, following her position as Senior Vice President of Marketing at Sephora. Sharon has held senior marketing and brand management positions with Godiva, Starwood Hotels and Resorts, Nabisco Biscuit Company and Procter & Gamble. Sharon holds a Bachelor of Commerce from the University of British Columbia and an M.B.A. from the University of California, Los Angeles.
Dana Stalder
Independent Non-Executive Director
Dana was appointed as an Independent Non-Executive Director on 24 January 2018. Dana brings over 20 years of experience to the table as a technology company operator and investor. His experience cuts across multiple disciplines including sales, marketing, finance, technology and product management at companies such as eBay, Netscape and PayPal. Dana is an expert in FinTech and an active FinTech and consumer internet investor in Silicon Valley. Dana holds a Bachelor of Science in Commerce from Santa Clara University, and began his career at Ernst & Young advising technology companies. His executive experience extends to positions held at Netscape Communications, AOL, Respond.com, eBay and PayPal before joining Matrix Partners in 2008 as a General Partner. His investments focus primarily on FinTech, Consumer Marketplaces, and Enterprise Software. He currently serves on the Board of Directors of several private US based technology companies.