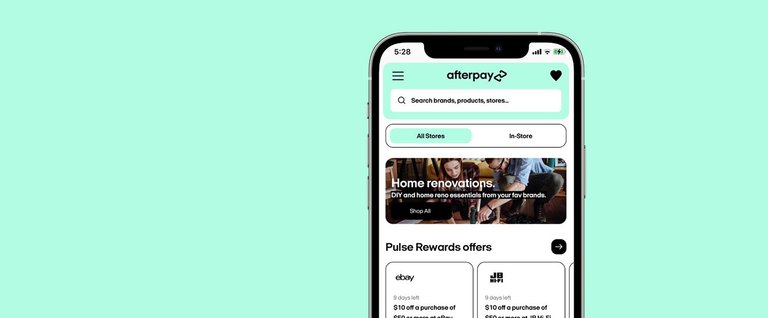 Keep your business connected to Afterpay.
Update the payments app immediately to avoid service disruption.
Shopify is making updates across its payments platform.
This means, for you to continue offering existing and new customers Afterpay at checkout, you need to install the new Afterpay payments app and deactivate the old one on your Shopify dashboard.
This is a quick, 5-step process that you can do right now.
Make the update in minutes.
Step 2
Install the Afterpay (New) payments app
Step 3
Activate the Afterpay (New) payments app
Step 5
Deactivate your legacy Afterpay gateway
Stay connected to the platform customers know and trust
Partner with the most visited and used Buy Now, Pay Later solution, globally.
Access an average of 31M global referrals through our website and within our app.
Reach new customers with exclusive Afterpay events like the Afterpay Day Sale.
Provide a payment solution that customers trust - Afterpay has a 4.9/5 ratings on both Trust Pilot and in the App Store.
If you need more info, we have people standing by to help out.
Shopify is updating its payment processing functionality and the old Afterpay payment method will be retired. To avoid service disruptions, you must activate the new Afterpay payment method gateway as soon as possible.
Use the following Shopify Administrator steps to activate the new Afterpay payments app integration and to disable the old integration.
Click "Update" above
Click "Connect" to link your Afterpay account
Shopify will ask you to grant Afterpay permission to process orders and refunds. Click "Install app" to continue
If you have processed an Afterpay transaction from the same Shopify store since July 1st, 2020, your Afterpay account will be automatically connected.

--- or ---

Sign in using the same email you used to apply for an Afterpay merchant account. You also have the option to input your merchant ID and secret key, which was sent to you when your merchant application was approved.
Click "Activate Afterpay (New)"
Deactivate the old integration
If the new payments app integration is activated but the old gateway integration is not deactivated, two Afterpay payment options will appear on your checkout page and may cause confusion for your customers.
Nothing will change for you or your shoppers if you update in time. If you don't update, Afterpay will disappear as a payment options for your shoppers after 31 March 2022 (previously 31 December 2021).
The legacy Afterpay payment gateway via Shopify will be decommissioned on 31 March 2022 (previously 31 December 2021). Prior to this date, transactions will flow through the gateway however Afterpay will not be supporting the gateway after 15 November 2021.
Please visit our Help Centre page, where you can find instructions and common operational questions. For more technical questions, you can visit the Shopify section of the Afterpay Developer Docs site.
Contact United States of America Help Centre to submit a ticket or call us on 855 289 5766
Contact Canada Help Centre to submit a ticket or call us on 1-833-386-0453
Your company's Shopify administrator must install the new Afterpay payments app, then deactivate the old Afterpay gateway. Click here to view the necessary steps.
Yes. Refunds will not be impacted, even if you deactivate the old gateway integration.
Congratulations! If you see two Afterpay payment options on your checkout page, you have successfully installed and activated the new Afterpay payment app via Shopify. Now, you'll need to follow a few simple steps to remove/deactivate your old Afterpay gateway integration.
The Shopify Administrator is the only person who can make changes to your Shopify account.
There are two settings we would recommend checking before updating to the new Afterpay payments app. Firstly, you are now able to use Shopify's Manual Capture setting. If you already do, or wish to do so, we have prepared a Pre-Update Checklist for you to read. Secondly, if you use Shopify and Afterpay in conjunction with an ERP or Reporting system, please read this document. The Pre-Update Checklist can be found here.
Once you have updated to the new Afterpay payments app via Steps 1 through 3, you will have the new Afterpay payment option added to your checkout. It appears with Afterpay in plain text, then shows the 'Afterpay loop' logo at the right.
If you can still see the Afterpay payment option with the wordmark encapsulated inside a pillbox, this is the old Afterpay option. You will need to complete Steps 4 and 5 to remove it.