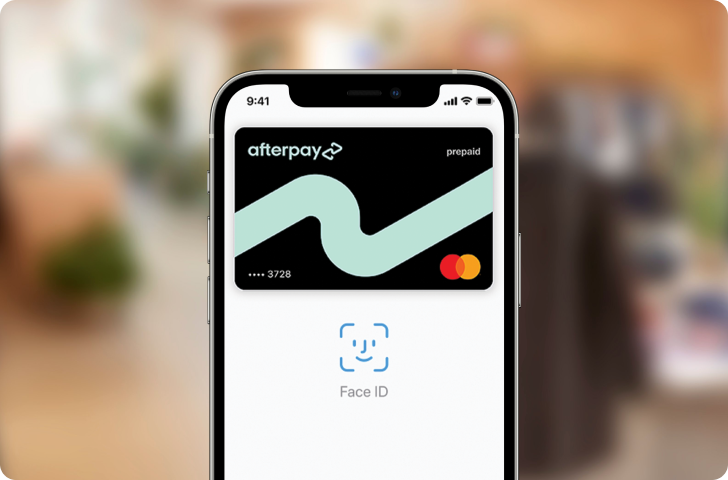 Afterpaying in-store just got better.
So, what's Afterpay Card?
We've made paying a better and easier experience for customers when they shop in-store.
Afterpay Card has replaced the barcode system of shopping in-store. It's a contactless Mastercard stored in a customer's Google Pay or Apple Wallet.
Everything your business needs to about the change is detailed here, including what you need to do to allow your business to accept Afterpay Card (don't worry, it's not much!).
How it works for customers.
All they need to do is follow these simple steps.
01
Download the Afterpay mobile app
(if they don't have it already).
02
Add Afterpay Card to their Google Pay or Apple Wallet.
03
Simply open the Afterpay app and click "Pay with the Afterpay Card" each time they want to purchase.
04
Tap your device terminal to pay.
A seamless, easier experience
for your business.
Your staff will be familiar with the technology. Transactions are processed the same way as any other card payment. No new or specialised processes at POS.
Familiar transaction processes
Your transactions will settle just like your existing Mastercard transaction and in-store processes, and we will provide a daily report in your merchant portal.
Support for your business
We offer a suite of training materials and visual merchandising materials that can be used for your stores so you can get the most out of Afterpay Card.
Afterpay Card operates just the same as any other contactless card transaction, which means it works with your existing payment terminal.
A better experience for your customers.
One-time setup, long-time use
Customers only need to set up the card once, and then it lives in the Apple or Google Wallet on their phone.
It follows the same purchase flow as Apple Pay and Google Pay. When ready to checkout, customers simply open the Afterpay app, activate the card, and tap to pay.
As always, customers pay just 25% upfront and take their purchase home that day, while we pay your business upfront.
Some customers may not want others to know they are paying in instalments. Through leveraging Apple Pay and Google Pay, the Afterpay Card allows customers to do this.
Make sure your business is set up.
It really is a simple process to be able to accept Afterpay Card for in-store purchases. There are no new integrations necessary or updates to your point of sale required. We will set up your store to accept Afterpay Card payments and you will be ready to go.
We simply ask that you please take a few minutes to update some details before its launch.
Free new look visuals, installed on us.
Brand spanking new in-store assets have been designed to inform customers and staff of the new way to shop with Afterpay Card, and we'll cover the cost of delivery and installation!
Keep an eye out for the installation team during business hours from 23 March onwards.
And don't forget to remove any old signage to ensure a smooth transition.
Get up to speed with how the Afterpay Card works and how to best utilise Afterpay through key moments in your sales journey. You and your team can access a range of online training resources via our Afterpay Education Hub.
Complete training
If you have questions about Afterpay Card and integrating it into your business, please check our Frequently Asked Questions, or please don't hesitate to contact our Sales Team on [email protected]. We are here to make the transitions as smooth and seamless as possible.
In a nutshell, we are launching a new in-store product, the Afterpay Card, which will replace our current in-store barcode/QR code from March2021.
For existing customers, the barcode system will continue to be supported within the app, in addition to the card feature, until July 2021. However, new Afterpay customers will only have the option to pay with the Afterpay Card when making purchases in-store and will not have access to the barcode. The QR code will be decommissioned in March 2021 when Afterpay Card launches.
The previous product involved the customer generating a Barcode/QR code in the Afterpay app, which your team then scanned via your POS system to create an Afterpay order for the customer.
Afterpay Card is set up by the customer through the Afterpay app, stored in their Google Pay or Apple Wallet on their phone, and then tapped on your card payment terminal to create an Afterpay order for the customer.
This change will only affect merchants with an Afterpay in-store offering. We are not making any changes to our online product or settlement if you have an existing Afterpay checkout.
You will process and settle Afterpay transactions via your relationship with your Merchant Acquirer, the same way you process and settle other card payments.
If your online business supports Apple Pay checkout, customers will be able to use the Afterpay Card within Apple Pay to complete a purchase.
Customers will complete a one-time card set-up with or via the Afterpay app to create their Afterpay Card. For purchases, customers can use Afterpay Card just as they would any other card in their Google Pay or Apple Wallet. As a merchant, you will process the transaction as a card payment. Customers can also open their Afterpay app to check their available Afterpay spending limit and access their card.
Afterpay Card launched in March 2021 in Australia. From 30 September 2021, Afterpay Barcode will be phased out, and all in-store purchases must be made using Afterpay Card.
We will be rolling out updated staff training, visual merchandise and customer marketing materials to support the change.
We will need to collect two pieces of data per store location to enable your store to process Afterpay Card. We'll provide a template via email within which we will need to collect your 'merchant scheme name' (this is the name that shows on customer bank statements when they make a card payment at your store) and your 'acquirer merchant ID' (this is a number allocated to each of your stores by your Merchant Acquirer and is typically found on your Acquirer statements). Please contact us at [email protected] to set up your business to accept Afterpay Card.
Customers can use your Afterpay Card via Apple Pay online if they are an iOS customer and whilst purchasing from a merchant that offers Apple Pay on their native app or mobile website (Watch or Safari users on iPhone only). Customers cannot currently use the Afterpay Card via Apple Pay on a merchant's desktop site, nor on an Apple iPad device.